Halls Living
Everything you need to know before you arrive
Turning anxiety into excitement
If you're reading this you're probably just starting (or have just started) your journey as a student of Queen Mary. First and foremost, congratulations! It's an exciting time and we are excited about all the amazing memories you're going to make with us.
Second, if this is your first time as a university student, you're probably thinking "I have no idea what I'm getting myself into." and that's okay! Everyone's journey is a little different but we're going to try here to give you a good example of what you should expect coming into Queen Mary.
If you're joining us from outside the UK, then we are here to support you with all the information you need too!
What are my flatmates going to be like?
Usually, the first thing on a lot of students' minds is their flatmates. Who are they, will I get on with them, how can I get on with them? While we can't make any promises on what kind of people your flatmates will end up being, we can help you form friendships with your flatmates. Even if you end up being very different personality-wise from your flatmates, you can still find common ground by spending time with them in various fun ways. The second thing usually on a student's mind is...
What will my room be like?
Your bedroom... a location you will be seeing most days during your first year at Queen Mary. You've probably clicked through all the photos on the accommodation page but what does it actually feel like to live there? What will be included in the room and how can I make it my own?
Well, you're in luck because you can watch a student walk you through their bedroom right now. See all the essential items you'll find in your room and get a good idea of how you can make the most out of it. Since you'll be spending a lot of time there, you'll want to make it your home away from home, but there are other rooms in your accommodation that are probably on your mind too...
Hows about the kitchen?
Another room you'll likely be seeing a lot of, your kitchen will be where you cook all your meals and socialise with your flatmates. It's an important space that you'll want to take full advantage of, but you can only prepare if you're in the know. Watch our Residential Assistant walk through the kitchen, showing the appliances that come standard in every kitchen and the storage space you will be sharing with your flatmates. Knowing how much space you have will help you determine...
What do I need to pack?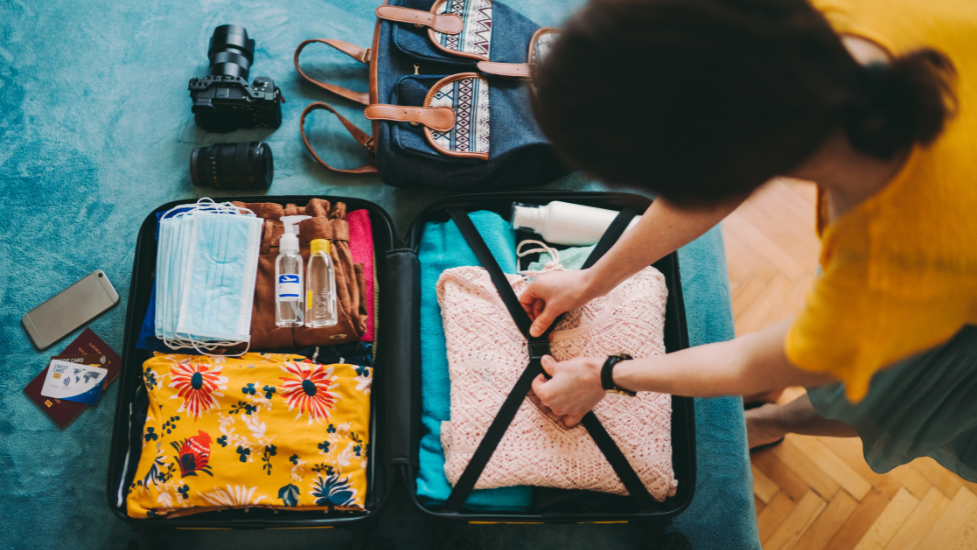 Panic packing is a common occurrence for students. You feel the urge to bring literally everything you own and then half that stuff just ends up collecting dust/taking up space. We recommend bringing just your "essentials" so you are prepared for your course and living away from home. But okay, you get to uni and while unpacking, you discover you've forgotten a key item (such as a cooking pot), what do you do then? You can use our online shop to buy any items you are missing, as we supply all the common items students forget.
If you're completely unsure what to pack in the first place, take a page out of Eniola's book and follow her guide on what to include in your suitcase. Once you've unpacked and are ready to go, next up is the first proper day of your course...
What will a typical day look like?
After your moving-in weekend, your uni days will vary from week to week, with some days being packed with lectures and practicals, and some days being free for you to do activities, explore London or time for you to study. It's up to you how you make the most of your days, but here is one student's day from start to finish who even manages to fit in a ResLife activity right at the end...

You can see how she gets from A to B, but you will have many options for getting around. We'd recommend using an eco-friendly way such as a bicycle, which you'll be able to safely store on campus.

What is Residential Life?
So you're wanting to get involved in more events designed exclusively for Queen Mary students? Or maybe you need more support and advice settling into your hall? Then the Residence Life Team is here for you. Read our guide on what ResLife can do for you, which details how you can find out more about events and everything else the team can help you with. They can help you make the most out of your time in halls. Speaking of events...
Are there any pre-arrival events I can get involved with?
You can get involved even before you set foot on campus by joining in some of our pre-arrival events. Connect with your flatmates and other students in our halls by attending a speed meeting. This will be a great opportunity to get to know the people you will be living with and trade any useful information with one another.
Queen Mary will also be running workshops you can join to get ahead and give yourself the best start possible. These workshops will aim to give you the information and resources you need to succeed and make your transition to Queen Mary as smooth as possible. 
Topics