Halls Living
Fire safety in halls
Living in halls, it's important to follow fire safety guidelines.
Most fires and alarm activations are caused by residents who do not follow common sense fire safety guidance. You can reduce the likelihood of a fire in your hall of residence and prevent unnecessary activations, which are inconvenient for everyone in the building, by avoiding these common mistakes.
Shower/Steam:
Showering in your ensuite with the door open
Using kitchen appliances - like a kettle - in your bedroom
Electricals:
Using overloaded adapters
Using damaged electrical appliances
Cooking:
With oil at high heat
Leaving cooking unattended
Forgetting to remove all the packaging from your food before cooking it
Opening the kitchen door to air out the room when it is full of smoke
Microwaving metal
Accidental:
Pressing the RED fire alarm activation button instead of the GREEN door exit button when leaving our flat or a building
To ensure everybody's safety, we investigate all fire alarm activations. Our aim is to educate those responsible and prevent them from making the same mistakes again. Disciplinary action may result if a resident is found to have ignored fire regulations.
You must never tamper with or cover a fire detector. In doing so, you are endangering lives and will be asked to leave the accommodation. No exceptions.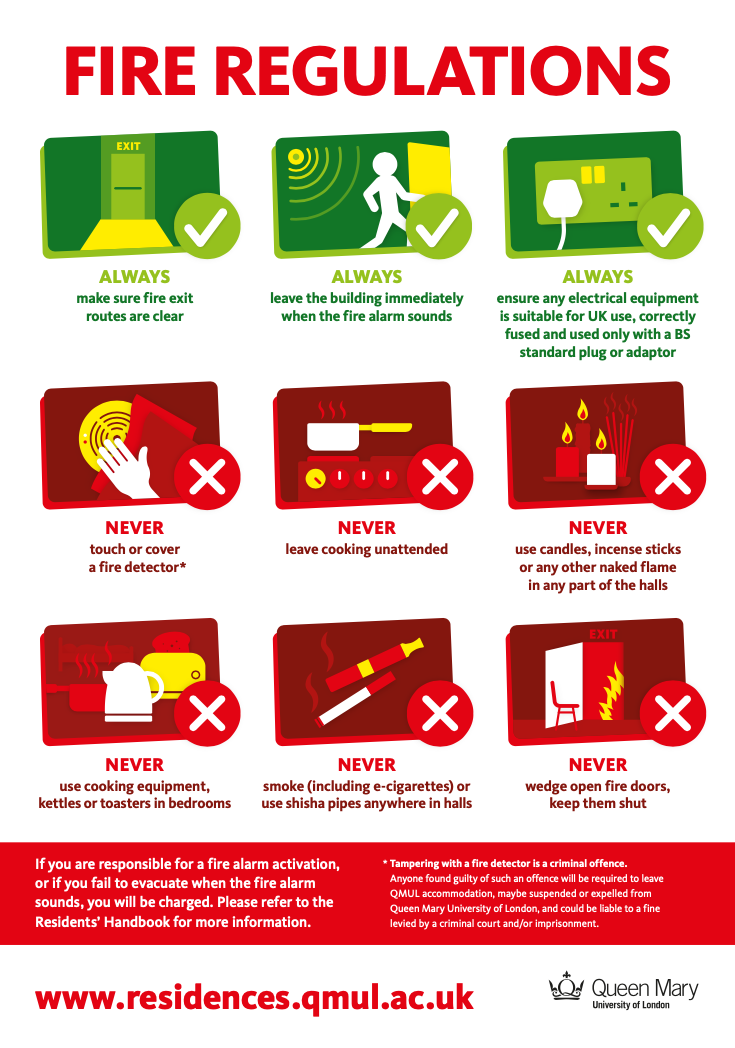 To keep yourself and your fellow flatmates safe you MUST NOT do any of the following:
Cover or tamper with smoke detectors

Smoke anywhere in the halls of residence, this includes e-cigarettes, shisha pipes and vapes
Cook in your room
Charge electronic scooters or bikes (Including their detachable batteries) in the building
Evacuations
When the fire alarm sounds, you must follow the evacuation procedure for your building immediately and head to its assembly point.
The evacuation procedure in Queen Mary Halls is different depending on where you live. Residents of Aspire Point should, in particular, familiarise themselves with the arrangements for the building, as you may not be required to evacuate even if you see other people doing so.
Topics