Halls Living
Named Maintenance Days
Your hall of residence has a named maintenance day
Maintenance in halls is either reactive (e.g. when you report an issue) or planned. All planned maintenance takes place on a named day depending on your hall.

If you live in Aspire Point, Blithehale Court or Sherren House, you should speak with your local Reception regarding maintenance. The below applies to all other Queen Mary Halls.

Potential items included within planned maintenance are:
Bathroom extractor maintenance
Drain maintenance
Electrical testing (affecting lights / power and Wifi)
Heating systems (hot water and radiators)
Fire alarm testing (the alarm will sound for a short period of time)
Fire sounder and sensor checks
Shower descales (to remove any limescale build up)
Water checks
Whenever possible, all non-urgent repairs reported for your room, or in your flat's communal areas will also be addressed on the building's named day.
Please note, there are no named maintenance days at Aspire Point, Blithehale Court or Sherren House, where residents should speak with their local Reception regarding maintenance.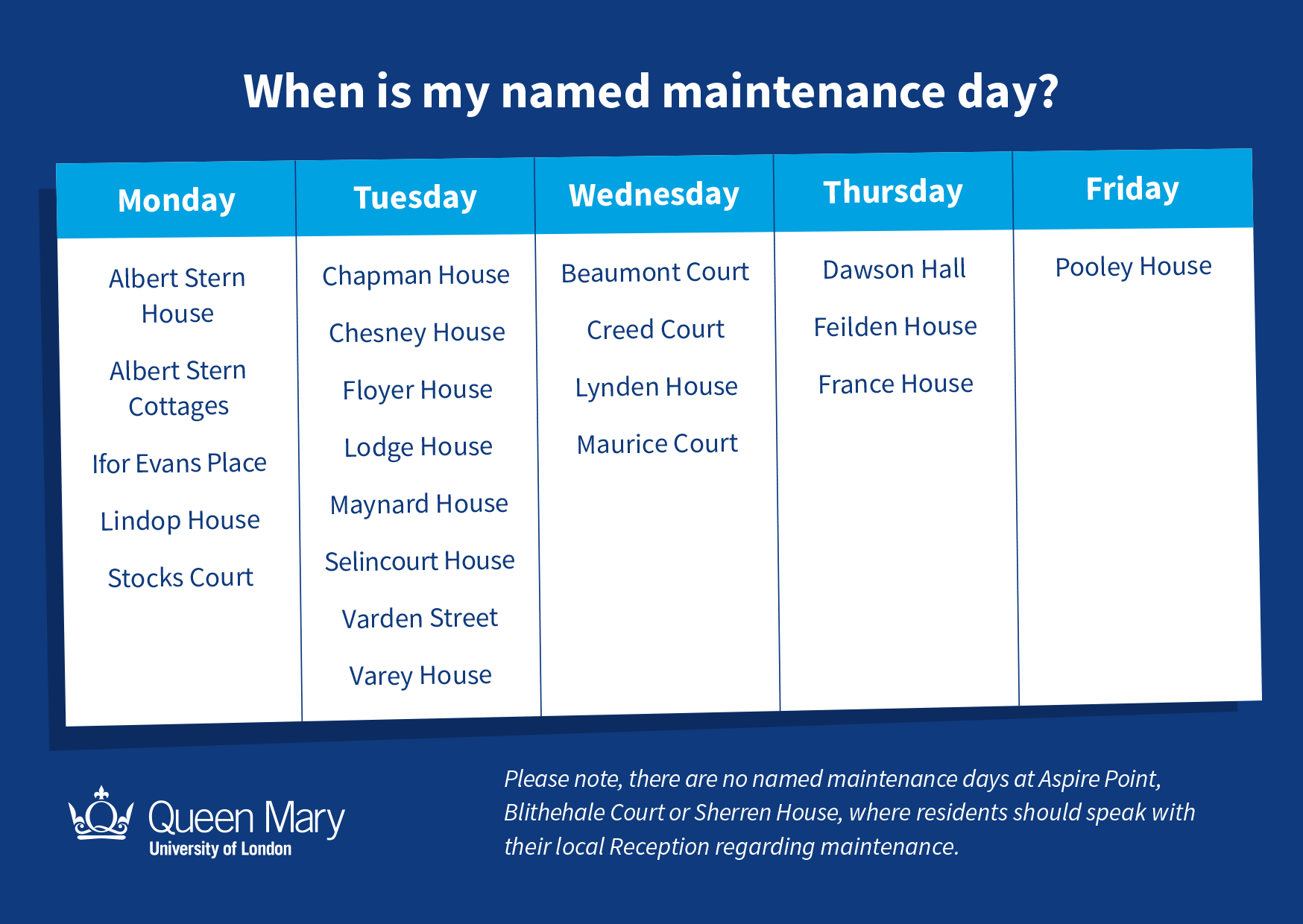 How do I report maintenance issues?
You can report maintenance issues online, find out how in our dedicated 'How to report maintenance issues' article.
What happens if I'm in when the maintenance team visit?
The maintenance team will usually ask you to leave your room, and will suggest you go to the kitchen while they are working in your room.
Do I need to be in when the maintenance team visit?
You do not need to be home for maintenance staff to access your room to carry out a repair that you have requested but, if you are, you should allow them to enter. Maintenance staff will lock the door of your room when they finish working, even if your room was unlocked when they arrive, so please remember to take your keys with you to avoid being locked out.

Topics