Residential Life
Game Nights in London
As someone who is very competitive, when I first moved to London I didn't realise how many amazing locations there were to visit with friends where we could go head to head!
Lots of these venues offer food and drink, and I've loved being able to spend a whole afternoon battling it out with friends in some very affordable establishments.
These are my top picks for now, and don't worry they won't break the bank!
Draughts is a haven for game enthusiasts! It boasts bookshelves of games, spanning from boardgames to trivial exercises to world building to card packs. One of the best things about this place is being able to walk in with no knowledge of what you're going to play but having the opportunity to speak to experts who can give you a million suggestions! The shelves are arranged into categories to make looking easier, including time frames, genres, number of players needed.
I've visited on multiple occasions and I'm a huge fan of deck building games! If you've never tried, I would recommend El Dorado – a race from one end of a board (that you build new each time!) to the goal, using cards you buy and play each time.
If you're a monopoly fan, why not come along and expand your horizons. This doesn't have to be a serious game playing afternoon, bring some friends and go head to head in Pictionary or similar games you probably haven't picked up in a while. Let your inner child out.
Cost? It's a very affordable option, only £10 per session and there's a selection of food and drink that is both tasty and within budget.
Locations are in Hackney and Waterloo, with slightly different variations in available games - both amazing.

Spitalfields market is a host to lots of amazing stores, restaurants, market stalls and food vendors. However, located inside this big hall is a venue called Players Social that offers table shuffleboard, table football and table tennis. I'd recommend enjoying the food in the market around you, then heading over here to grab a drink and test your skill with some friends.
There are two shuffleboard tables and one table football table so I would recommend booking in advance if you plan to come with a large group. Alternatively, you can walk up and ask to play or book some time in advance (before you go to grab food) and swing back with fully bellies!
Cost? The prices are very affordable:
Ping-Pong: £3pp / 30 min, £5 pp /1 hour
Shuffleboard: £3pp / 30 min, £5pp / 1 hour
Table football: £5 table / 30 min, £10 / 1 hour
Top tip: make sure there is lots of sand on the table when playing shuffleboard! It helps your pieces gain more resistance (and most importantly slow down!).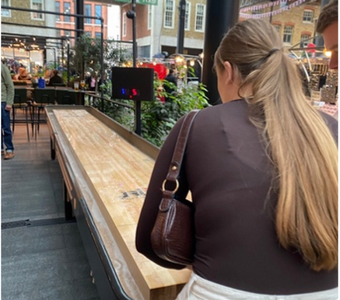 Calling all bowling fans! All stars lanes offers bowling, karaoke and darts at an affordable price in venues across London. Brick Lane has recently launched a new interactive darts so if you don't do so well at bowling, why not try your hand at darts. If brunch is more your thing, they are serving bottomless pizza on Saturday and Sunday and bottomless brunches have now arrived so spend an afternoon playing and sipping to your hearts content!

When I visited with friends, we played 2 games and enjoyed their happy hour cocktails. Be sure to check the timings of happy hour per venue. The Brick Lane branch is a short bus away and in the heart of the amazing vintage stores and famous Indian restaurants if you fancy exploring afterwards.
No practice needed, remember if you're not too confident then ask for the barriers up! Gutter balls can be a little heart breaking – speaking from experience.
Cost? You'll be happy to hear that they do offer a student deal of 25% off valid Sunday – Wednesday (and Friday!)
There are also exclusive deals happening at the moment including £5 bowling after 5pm on a Sunday.

Locations:
Brick Lane, Stratford, Holborn, White City
This is certainly a unique experience, and if you were a fan of the Xbox 360 or other interactive games you are going to love this electronic game box over in South Bank (Waterloo). You chose from a series of games when you book, I've completed temple of coins which is very similar to a full-scale Pacman. Other games include angry birds, squid game, alien aptitude test and more!
You chose your time frame, 15 minutes all the way to 60 minutes as well as the ability to book bundles of games to play in a row.
The layout involves putting on a headpiece that locates where you are in your room, this correlates to your icon on the screen and involves you moving around to move your player.

I've visited with my brother a few times and have found not only competing against each other for points, but working together to get high on the weekly scoreboard is a lot of fun and a great way to work up an appetite for all the local restaurants.
Cost? Prices vary so I'd recommend checking out the website, they do offer student tickets Monday – Wednesday and look out for the cheaper days to save some money!
This has to be my favourite affordable mini golf venue! With 4 different courses and a delicious range of drinks, Junkyard is a must visit venue to visit on a budget. No prior experience is needed, though maybe go with a friend who's played before because you definitely do not need to hit it as hard as you think!

I've tried "Gary" which had a lot of trick shots so even though I wasn't the best putter, I managed to get some holes in one by hitting it into the right spot! "Bozo" is also a really fun course with a spooky theme and more fun challenging holes.
Only a short bus ride away in Shoreditch, this is a must-visit and is close enough to Brick Lane All Stars and Players Social if you wanted to make a day of it!
Cost? Currently 50% off booking the golf for students, with very affordable prices already!
Off peak Sunday – Wednesday = £11
Peak Thursday – Saturday = £13
(before the 50% off!)
If you want to grab a drink while you're there, they have a really fun cocktail menu with some special drinks reduced to £7 on off-peak days.

Topics