Residential Life
Queen Mary arrivals: how to meet new people
Hear from the Queen Mary Residential Assistants on the best ways to make friends whilst at Queen Mary!
Meeting new people when you're new to university (and the lifestyle) can be daunting, but it's also one of the most rewarding parts of the uni experience. We asked our Residential Assistants how they'd recommend making new friends and these are the top answers they gave!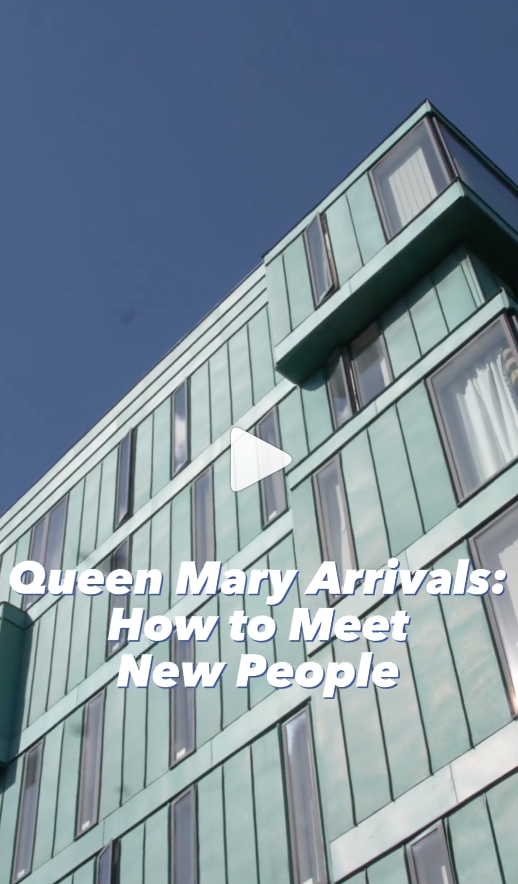 Join a society
There are over 200 societies you could potentially join at Queen Mary and if you get in early you will be surrounded by lots of people in the same boat as you with at least one shared interest. You'll also have students further through their time at Queen Mary as your society reps and leaders. They will be more than happy to make you feel welcome and will be actively trying to bring everyone together. So we recommend joining one as soon as possible to meet new people with ease!
Volunteer and meet like-minded people
Another great way to meet people is through a shared cause that you care about. There are lots of volunteering opportunities available, from giving back to the community through supporting local sports to fundraising for charities that you have a personal connection with. There are also plenty of chances to volunteer outside of University through charity shops or food banks in your area.
Attend lectures in person (if possible)
So the most obvious and usually easiest way to meet new people is through your course. If you can attend lectures and practicals in person, then go out of your way to chat with the students around you. Not only will you meet new people you will see regularly, but you also meet people who you can form a support circle with to make work on your course a less stressful experience.
Go to events solo
Sometimes the best way is to jump straight into the deep end by going to an event by yourself. Your inner social butterfly will likely come out if you don't go with a mate because you won't feel the urge to rely on their friendship. There are new events popping up every week so keep an eye out for something that takes your fancy and where you feel you can be yourself the most. There's no point in forcing yourself down a path you don't feel comfortable with but also don't be afraid to try new things, you may find a new calling alongside your new friends!
Food, food & more food!
Last but not least, let's not forget the key thing that brings us all together...food! Eating and cooking lots of delicious food is always a good way to make friends. You could plan to cook a big meal in the common room at your accommodation and put the invite out there for anyone to join. Just make sure to get everyone to bring a dish or side along, you don't want to run out of food!
These are just a few of the ways in which you can meet tonnes of new people and have lots of fun doing it! Just be your friendly self and you'll have lots of mates in no time.
Topics