Halls Living
Policies and Procedures
Please read the Residents' Handbook for detailed information on the Queen Mary's policies and procedures. Salient sections are summarised and linked to below.
Access Procedure
All residents will be given 24 hours notice (where possible) for access to rooms.
All staff will wear uniform and appropriate ID.
There should be three loud knocks on the door and the staff member will then announce themselves, before entering your room.
If you have any issues regarding this please contact Residential Services at residences-reception@qmul.ac.uk
Shared Bathroom and Kitchen Cleaning Agreements
It's important that you clean these areas as you go and be mindful that others will be using these areas too.
When it comes to the kitchen, please take a look below at your responsibilities as a resident, and the responsibilities of the Queen Mary Residential Cleaning team.
NOTE: These agreements are relevant for all halls except Aspire Point, Blithehale Court and Sherren House, which have their own policies.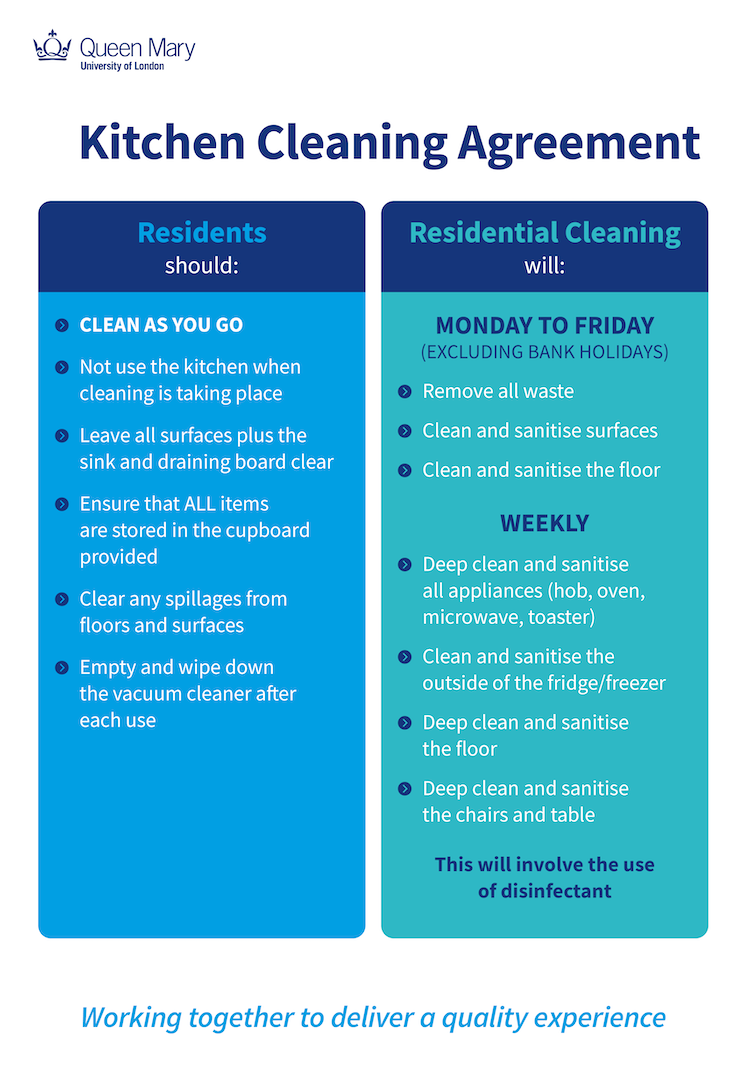 You may also be living in a flat that has shared bathroom facilities, therefore it's important to take a note of the Bathroom Cleaning Agreement too.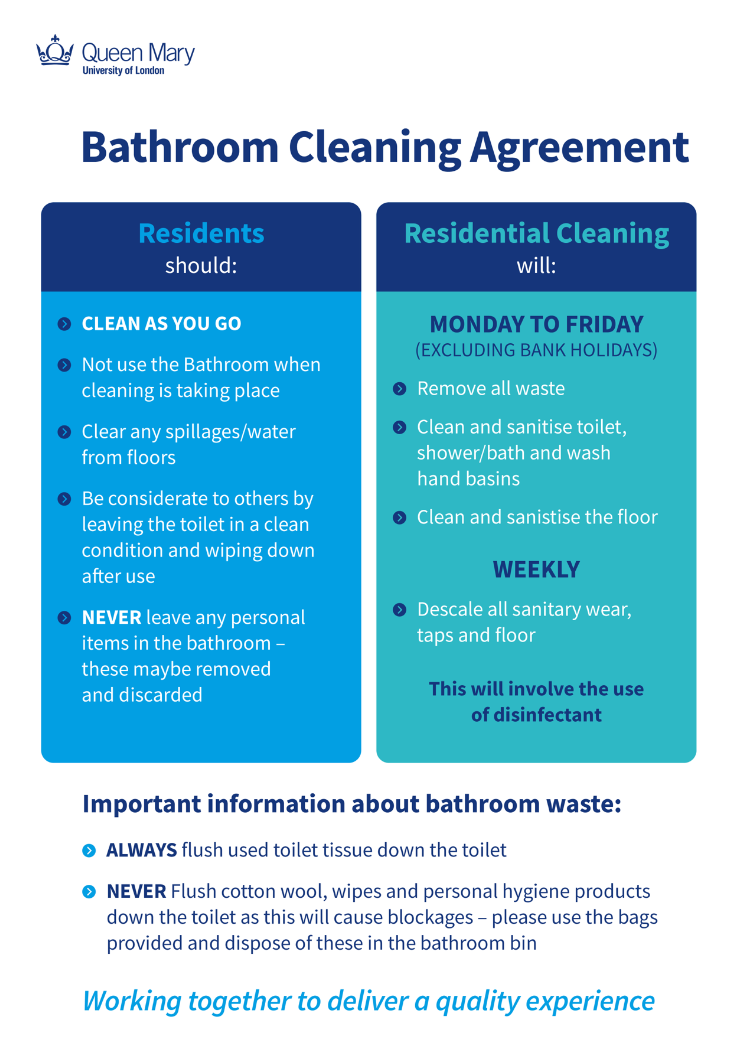 Complaints Procedure
The Queen Mary Student Complaints Policy and complaint form can be downloaded below:
Confidentialty and Data Protection
In compliance with the General Data Protection Regulations (GDPR), we are not permitted to discuss any details of your residential agreement with any other person (including parents or guardians), unless you provide written permission to do so.

Guest Policy
You are permitted to invite a guest into your room, flat and communal areas of halls - however, they must always be accompanied in these areas by yourself.
A guest will be allowed to stay overnight for 2 nights a week, up to a maximum of 6 nights in any one month.
The term 'guest' also applies to any other resident living in a different flat / building within Queen Mary accommodation.
If a guest has at any time received a 'Notice to Quit' from Queen Mary accommodation, they will not be allowed to enter.
Residents are responsible for the behaviour of any guest they invite or allow to enter Queen Mary accomodation.
Large gatherings are to be discouraged and may be dispersed by Queen Mary Security. Please be aware that Queen Mary Security are working with us and may ask you or your guest to present your Student ID Card to confirm your identity. You are required to show your ID card if this is requested by any member of staff at Queen Mary.
Health and Safety
Health and safety ensures the necessary precautions are taken in the halls to provide a safe and secure environment for residents and staff to live, study and work.
Any concerns about Health and Safety should be referred immediately to EAF-helpdesk.qmul.ac.uk or for Aspire Point to aspirehelpdesk@derwentfm.eu
(i) The Queen Mary Health and Safety Policy is available at: qm-web.ohsd.qmul.ac.uk/.
Snow and Ice Clearance
During the winter months we actively monitor weather conditions and have systems in place to prepare our external areas in the event snow and ice condition are forecast. When necessary we will display snow and ice warnings in building entrances. During freezing conditions we ask all residents to take care when moving around campus when snow and ice is present.
Prohibited Items
Firearms of all types are not permitted on any Queen Mary campus. Any other item which is likely to cause harm or intimidate others is also prohibited.

Other prohibited items in halls are:
Deep fat fryers
Fan / Halogen heaters
Candles, incense sticks, or anything else with a naked flame
Mains powered decorative lighting e.g. fairy lights
Barbeques (internal and external)
Fireworks
Electric scooters / skateboards / bikes
Non UK-Compliant Electrical items
Shisha Pipes
Any prohibited item will be immediately confiscated and may lead to disciplinary action being taken and the Police may be informed.
U18s living in Queen Mary Accommodation
We are unable to assume parental responsibility for a student under the age of 18. All students living in halls are expected to behave like adults and to assume adult levels of responsibility. Places in halls are offered on the understanding that the student will be able to adapt to living away from home and to look after themselves in all practical matters.
Topics