Halls Living
Looking for storage for your stuff?
LOVESPACE offers self-storage, but better. They offer free collection and next day delivery, not to mention flexible storage plans to suit your short and long-term storage needs. Book your collection slot in minutes and they'll do the rest! LOVESPACE will come to campus to pick up your stuff, store it for as long as you need, and return it to you on a date and time that's suitable for you when you're back - all ready for the next academic year or to help you move home!
All Queen Mary students get up to £25 free materials with promotion code 'WORTHIT' which includes boxes, tape and bubblewrap, everything to help pack up your stuff securely! Everything you wish to send into storage must be boxed up including any suitcases and no boxes must weigh more than 25kg.
If you cannot make either of the designated collection dates set by your accommodation team, you're still free to book other collection dates throughout May and June. However, you must be able to bring your own boxes down to the ground floor of your accommodation for your chosen collection date, ensure all boxes are correctly labelled and be available for the full-time window of your collection. Please do not leave your boxes unattended for any period of time in the communal areas or the entrance of your building.
Please don't forget, you need to log back into your LOVESPACE account to book the return of your belongings once you're ready. You can have everything returned or even just one box at a time!
Find out more at lovespace.co.uk including what they can and cannot store for you.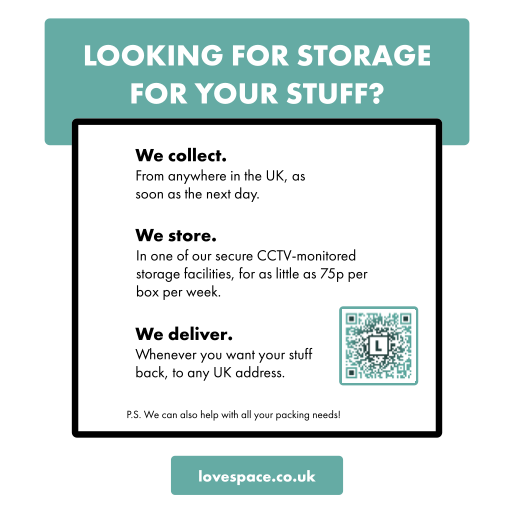 Topics