Halls Living
Fire safety in halls
Fire safety in halls is very important. The Queen Mary Fire Safety Video 'Get Out, Stay Out, Stay Safe' above provides an overview of basic fire awareness and information on how to minimise the risks and dangers of fire.
You can find more information and guidance on Fire Safety in the Fire Safety Guidance for Residents leaflet and in the Residents' Handbook.
Fire Safety Guidance for Residents

Below you will find a link to important information around Fire Safety in Queen Mary Halls. It is important that you familiarise yourself with this information, and note your responsibilities as a member of the halls community in ensuring fire safety.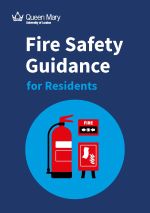 Evacuation Procedure
The evacuation procedure in Queen Mary Halls is different depending on where you live. Residents of Aspire Point should, in particular, familiarise yourselves with the arrangements for the building, as you may not be required to evacuate even if you see other people doing so.
Where is my assembly point?
The assembly points for halls located at Mile End, Charterhouse Square and Whitechapel are provided below.
Mile End Campus
Godward Square for:
Albert Stern Cottages
Albert Stern House
Ifor Evans Place
Queens' Building Lawn for:
Outside The Curve for:
Beaumont Court
Chapman House
Chesney House
Creed Court
France House
Lodge House
Selincourt House
Outside France House for:
Feilden House
Lynden House
Maurice Court
Maynard House
Pooley House
Varey House
Outside Withy House for:
Whitechapel Campus
45-53 Philpot Street for:
Floyer House
Varden Street
Charterhouse Square