Wellbeing
Balancing your work and social life at uni
Perfecting a work/life balance can be a challenge, but it makes so much simpler when you do
Hello everyone. How are you doing? Yeah, not too bad myself, thank you. My name is Adil and I'm one of the Residential Assistants that are here to assist you this year. No pun intended. Anyways, I'm here today to discuss one of the best ways to balance your work and social life at university.
Now, to begin with, the urge to have fun during your first year is obvious. I mean it is only worth 10% of your entire course, right? But the thing is, it can be very easy to get distracted and not realise how much work is building up until the submission/exam dates are right around the corner. 10% is still 10% after all.
As someone this has happened to many times over my two years at Queen Mary, I believe I have a solution which has helped me quite a lot. And that solution is… Planners.
Failing to plan, is planning to fail
After struggling my way through my first year, I knew something had to change when I began my second year. So I bought a planner.
I'm sure some of you know what I'm referring to. The school planners we couldn't survive without during our secondary school life. For those of you who are unsure of what I'm talking about, here's an example of my planner filled out for a week in September 2022.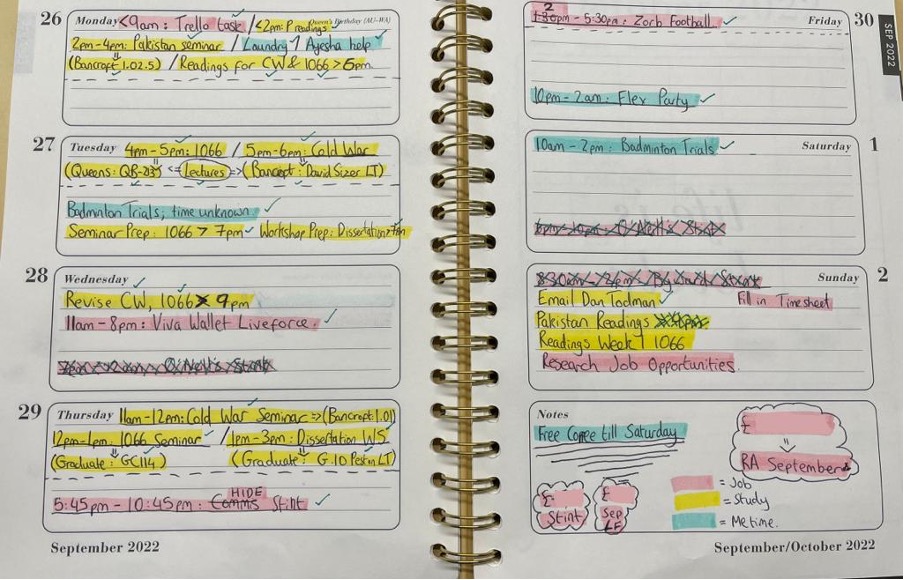 Personally, what I like to do is to take out time every Sunday to sit down and plan my coming week.
Normally, I begin with the academic side. As you can see, the important academic events, such as lectures and seminars, are mapped out with the time and locations. Alongside that, I add time dedicated to studying sessions for specific modules.
Once the academic aspect is sorted, I can move on to scheduling shifts. I currently do three part-time jobs, so it's very important to keep track of which shifts I have and on which days. Using the notes section to calculate the money I make helps keep track of my expenditure as well.
Once that's all sorted, I move onto my own free time. This is things like parties, hanging out with friends, going on trips or sometimes even chores. Finally, I colour code the lot, as it makes it easier for my mind to differentiate the tasks off a single glance.
It can be a lot to take in — but try not to worry
To finish off, I'd just like to say that it is normal to feel overwhelmed. University is a big step in life and adjusting to a new environment and way of life can be tough, especially for international students.
To that extent, it's always a good idea to take some help, which the university provides with the Advice and Counselling Service, located in the Geography Square. Visiting these professionals is a good way to get help in a safe and supportive environment and to help you have your best university experience.
Anywho, that's all for now, have a great day, and remember, studying is fun if you make it fun.
Topics