Residential Life
Ask an RA
We're recruiting new RA's now for the next academic year! We asked some of our current RA's questions about the job. Here's what they had to say:
What advice would you give somebody who's thinking about applying to be an RA?

Daniel: Do it. It gives you the opportunity to interact with people from across the world while making some money which is useful for anyone. It's fun and you can learn so many different skills from running events to creating digital content
Marianna: I would say: definitely apply! One the best parts about being a RA is that you get to know the university at a deeper level. You don't only experience university as a student but also get to know the staff and learn how campus comes to life to deliver all the events and opportunities that you have as a student.
Mia: When applying for the job, really think about how your experience in different roles; volunteering, job history, work experience, has developed you as a person and the skills you've done! Research this role and look at the work we do and explain to us why you would think you would be a good fit. If you're passionate about joining our team, it will shine through in your application. Just make sure to tell us all the amazing skills you have, be specific and give evidence!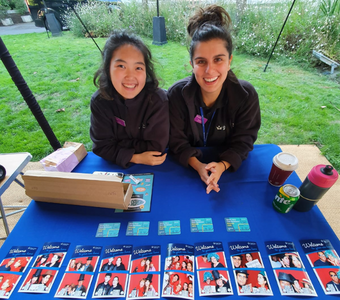 Do you have any highlights from your time as an RA?
Daniel: Well actually, the training week. Everyone was excited for a new year and a new job. The group activities and different team building exercises were a very natural way for everyone to get talking and made the role feel much more friendly.
Marianna: One of my favourite events we've ran is Diwali! I loved learning about other cultures, and it's always so gratifying seeing residents appreciate the effort we put into these events. This event had music, food, decorations, and residents loved to dressing up as well! It was overall a great experience.
Mia: A series of events that have stood out to me have been the artistic events, including the Paint and Sip and Pick, Paint and Plant! I love seeing how creative residents are and every time I run these events I always leave with a huge sense of pride while looking at the diversity of designs and creations. It's something special to see students supporting each other, learning new skills and being able to facilitate such events that have such positive feedback.

How do you manage your time as a full-time student and a RA?
Daniel: For me it was important to plan. I like to know when I'm working and what time I have to have study. Luckily, the Reslife team always let us know in advance what our working schedule will be. They're also very flexible depending on our availability to work. This means I still have time to do the things important to me: study and sleep!
Marianna: For this job, time management is key! The good thing is that you will get scheduled based on your availability, so you can prioritize depending on what you want to focus on each month. It is a flexible job, and it is the perfect opportunity if you are a full-time student at QMUL.
Mia: As a student with 2 jobs, as well as a committee member of the netball society, I find planning ahead essential to my university experience. The flexibility of this role means I can allocate days and evenings to shifts, leaving me plenty of time to study. I communicate when my academic responsibilities are picking up, making sure to keep my allocated study days free – exercising discipline knowing when I should be working vs when I could be working.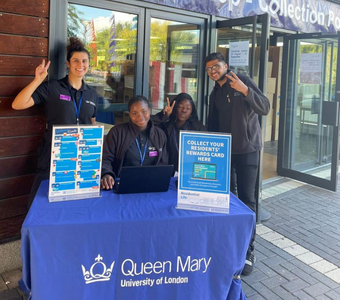 If you're interested in joining the team, you can find out more on our website.
We're also running drop-in sessions where you can chat to RA's in person or book in for a ten minute chat with a full time member of the Residential Life team. Drop-ins will be running on four dates and at different sites:
Monday 27 March, 5:30pm-6:30pm Floyer House Foyer
Tuesday 28 March, 5:30pm-6:30pm Dawson Hall Foyer
Tuesday 28 March, 4pm-6pm Grad Centre Foyer
Wednesday 29 March, 2pm-4pm Grad Centre Foyer
We hope you find this useful! If you have any questions, please don't hesitate to reach out to us at residentiallife@qmul.ac.uk
Topics