Residential Life
Alumni Blog: Vijay Gill - LGBTQ+ History Month

Why did you study Computer Science at Queen Mary? Did you have a particular career path in mind?
Computer Science is great because it opens so many doors. Tech is all around us fueling our lives – whether you want to use it to create video game worlds like myself, or change lives in healthcare, or agriculture, or the financial world – the applications of Computer Science are limitless.
Computer Science excited me because it's a melting pot of mathematics, technology, science and art – all of which I enjoy and are critical to game development.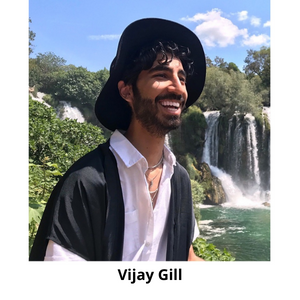 During your studies, you received a scholarship to attend the 2018 Out 4 Undergrad Tech Conference for LGBTQIA+ students in Silicon Valley. What did this weekend conference involve and how did it help inspire you in your career and personal journey?
Attending the 2018 O4U Tech Conference was a life-changing experience that still feels like a dream! The Conference was hosted at Cisco's headquarters in San Jose, California, right in the heart of Silicon Valley, and opened my eyes to the beautiful depth of the Queer community and opportunities available to us within the Tech Industry.
Over the duration of the conference, I was joined by 240 LGBTQIA+ students from across America and was fortunate to attend keynotes from LGBTQIA+ tech executives from Spotify, Facebook, Microsoft, and many more to understand how to bring my most authentic self to my work. I felt, for the first time, a true sense of belonging - the opportunity to listen, share stories, and highlight the nuances of the Queer experience, was incredibly inspiring.
I stepped away with an understanding that it is perfectly acceptable to be passionate about social change, equality, and the necessity of finding an environment in which you can explore this passion and bring your most authentic self forward, which has helped me undoubtedly throughout my career. O4U continues to be a phenomenal organisation that I'm incredibly proud to have been a part of – I encourage everyone to check them out and donate / show your support if possible.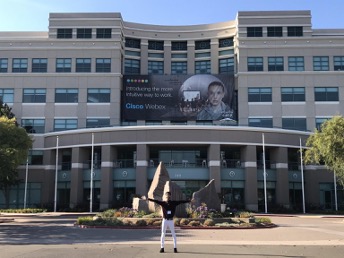 At the Cisco Headquarters in San Jose, California, for the 2018 Out 4 Undergrad Tech Conference.
Describe your career path since graduating including your current role as Associate Producer within one of Microsoft's Xbox Gaming Studios, Playground Games.
Kicking off my post-graduation career in 2019 with Microsoft's "Aspire" Graduate Programme was a rollercoaster as exciting as one can imagine: exploring Microsoft Campuses across Europe with my Graduate cohort (many of whom I'm fortunate to call family), soaking in the international glamour – and responsibility – of our "One Microsoft" culture and mission to empower the world to achieve more. Of course, this was just before COVID-19 arrived on our shores, so looking back, I'm doubly grateful for those months.
I knew in joining Microsoft that Xbox was my calling. I knew that making games and driving Xbox's vision to bring the joy of gaming to everyone – regardless of who they are, how they look, or who they love – was my mission. I also knew that it would not be an easy journey (this is an incredibly competitive part of the business), so I started small: many, many months of late-night networking to understand the business. It would be remiss not to mention some of the incredible mentors I made during this time who were my guiding light.

Lady Gaga once infamously said – "there can be a hundred people in the room, and ninety-nine don't believe in you, but one does" and in my case, Playground Games was that one. So, by way of Microsoft, I joined Playground Games – one of the fifteen Microsoft Xbox Game Studios – in 2021, as an Associate Producer, working on their highly-anticipated open-world RPG, Fable.
To join a AAA studio (of which their most recent release, Forza Horizon 5, became the most successful Xbox Game Studios launch title of all time) and work for Xbox is a dream come true!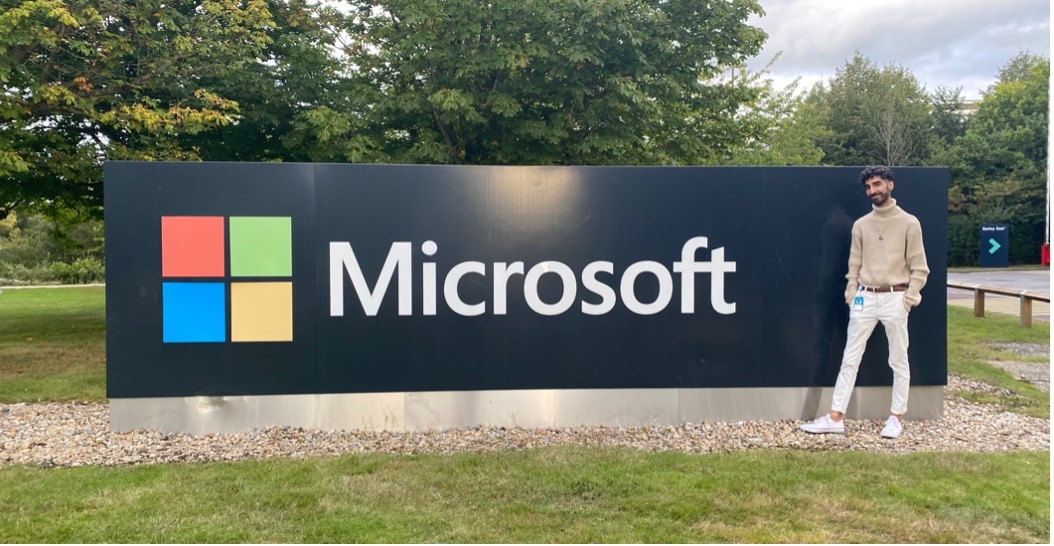 At the Microsoft Campus in Reading, UK, where Xbox UK is located.
What do you love about working in the Gaming industry and how does your job allow you to explore your passions?
Gaming has been the constant pretty much all my life. It started around seven years old – when I first played Halo: Combat Evolved – and it just hit me: this is what I'm meant to be doing. I love video games because they're my portal to new worlds and possibilities forever flowing with inspiration. They're a giant sandbox built for me to explore and knowing that a team somewhere in the world poured their heart into creating it makes the experience even more magical.
And now as a Producer, I get to be part of that team. Working with fellow creatives and world builders is about as close to nirvana as it gets: not a single day goes by where I'm not in awe of their incredible talent and dedication to bringing the best games to the Xbox platform.
I'm also incredibly grateful to be a member of Team Xbox, joining 23 studios across the world making gaming accessible, equitable and sustainable for all. Gone are the days of the notion of the stereotypical "gamer" as straight and male. It's no longer a boy's club. It's now essential to bring diverse and inclusive experiences in an accessible manner that allow gamers to see themselves. When I think back to games that influenced my upbringing – it's not the content of the games that I particularly remember, but how they made me feel. One such game was the original Fable, released in 2004, which marked the first time I ever saw Queer romance in any form of media or entertainment. Whilst I didn't completely understand my own Queer identity at the time, looking back, I felt seen – and nothing will make you forget that. Working within Xbox where the feeling of "being seen" is essential to the development of our games is – and I'll continue to say this – a dream come true. And to do this through our reimagining of Fable – is mind-blowing.
Of course, there's still a lot of work to do. Our recent record-breaking acquisition of Activision Blizzard will prove just that. You cannot forget the developers behind-the-scenes who're bringing the inclusive experience to gamers. Both need to be treated with the dignity and respect they deserve.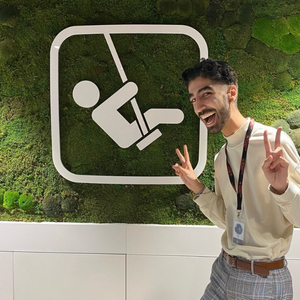 All smiles at the Playground Games Studio where I'm developing Fable.
What are your career plans for the future?
Without sounding too philosophical – I want to quickly mention one of my favorite pieces of advice I received. When thinking about your career, and career plans, it's important to understand the distinction between your "career", and your "job". The latter is something you do to get paid. However, a career is the long-haul. It's related to your interests, passions and long-term ambitions.
Being part of the Gaming Industry (and turning my fifteen-year dream into reality), my career has just started. And I can attest: the sky really is the limit. There's a bunch of other AAA studios across the world that I'd like to work for and I hope I can add some of those Infinity stones to my gauntlet at some point during my career. Outside of this, I'm looking forward to moving internationally in the future, and potentially exploring other opportunities within the Entertainment Industry. Games, Movies, TV Shows – who knows?! I just love entertainment.
Is there any advice you would give to current students or graduates considering a career in the Gaming industry?
Those who know me well are probably familiar with one of my favorite quotes from Viola Davis – "Dream Big, and Dream Fierce". For me that means don't be afraid. The gaming – and entertainment industry at large – is incredibly competitive. But that doesn't mean you can't start making games now. There are tons of fabulous resources (many of them free) available to allow you to learn how to make games – you just have to stay focused and stay willing. It shouldn't necessarily feel like work if it's truly your passion.
Getting into the gaming industry can be incredibly challenging and tedious – you may face many rejections, but throughout it all, stay fierce. Mentors, joining online communities and staying up-to-date with gaming news can also provide great direction.
Outside of your career how would you describe yourself? What are some of your interests and how do you use your voice to speak about the things you feel passionate about?
I would describe myself as a part-time activist, full-time dreamer and lover of all things that scream art (and a little bit of heart). I'm forever playing video games (of course!), love painting, illustration, comic books, and musical theatre. Anything I can channel my creativity into.
In terms of how I use my voice – I would say mainly social media. I love connecting with different people from all over the world and learning about new cultures and traditions. But I really would like to get into writing – maybe even creating my own comic book – or video game – exploring the nuances of Queer experiences – watch this space!
What does LGBT+ History Month mean to you and why do you think it is important that we acknowledge the contributions of LGBT+ people throughout history and in present times?
As a Queer person, LGBT+ History Month is an opportunity for reflection. It's about understanding and honouring my history – those that came before me, those that endured hardships and those that sacrificed – in order for me to live my life as I am. It's also an opportunity to celebrate the present: recognising and celebrating the incredible community of LGBTQIA+ folk living their lives to the fullest despite the lies and volatility that continues to be hurled their ways. And finally, it's about building our future – recognising that there's still a long road ahead for LGBTQIA+, non-binary and gender-diverse folk in this heteronormative, cis-normative world, as well as understanding stigma within the LGBTQIA+ community itself: racism, misogyny, and transphobia exists within the confines of intersectionality and must be acknowledged.
For those "othered", it's critical you understand your history, that you honour your ancestors and step into the power and worthiness that many will try to strip from you, but you must recognise as your birthright.
Believe it or not, Queer people have existed for thousands of years. We've always had a seat at the table. We've shaped history and revolutionised art (see Leonardo da Vinci), we've founded computer science (see Alan Turing) and occupied some of the highest positions of power (see Eleanor Roosevelt), we've challenged beauty standards (see Frida Kahlo) and defined the Jazz Age (see Josephine Baker). Simply put, my celebrating my Queer history is me calling forth these individuals – and the hundreds of millions of other Queer people that have existed before them – to guide my path through darkness. Maya Angelou once said, 'I come as one, but I stand as ten thousand.' LGBT+ History Month is my way of understanding and appreciating those 'ten thousand' and singing their praise for generations to come.
Are there any LGBT+ historical figures you wish more people knew about?
Ah, there's too many to name. But if you have the time, go read about Marsha P. Johnson and Sylvia Rivera and the work they did to support queer youth and sex workers, or Stormé DeLarverie – once a drag king and at other times regarded the "guard of lesbians" – who dedicated their life to honoring victims of domestic abuse. Check out the artistry of Laverne Cox – who became the first transgender person nominated for an Emmy in 2014 – or Michaela Jae Rodriguez, who, three weeks ago, on January 9, 2022, became the first transgender person to win a Golden Globe Award. History is being made and glass ceilings are being shattered as we speak.
Generally, what do you think still needs to be done to give greater equality and representation to the LGBT+ community?
I could speak for hours here but would like to keep it brief. I would say: hire us, both behind-the-scenes and in-front of the camera. Give us a seat at the table, a platform to share our stories and experiences and contribute to the conversation at large. I think world leaders and industry executives need to recognise that cultural currency is invaluable – that diverse and inclusive experiences are critical to innovation, that if you're not factoring in multiple unique perspectives, you're not changing the world. And if you're not setting out to change the world, what are you even doing?
Gone are the days where we could float by with statements such as "I couldn't find any diverse candidates". Then please, cast your net to a wider pool. There's an ocean of talent out there – you've just got to be willing to find it, even if it potentially involves a little more work to uncover. There has never been a lack of talent amongst the LGBT+ community – we've got that covered ten-fold. But there is a lack of opportunity.
In order to give greater equality and representation to the LGBT+ community, I think it's also critical to educate oneself. Recognise that the Queer experience is not black or white – or gay or straight – that a beautiful grey zone exists that you don't have to completely understand, but acknowledge and appreciate that it exists. Don't be afraid to ask questions in order to educate yourself and learn more about some of these incredible people we share Earth with.
What do you love about belonging to the LGBT+ community?
Not even sure where to begin! Being Queer, I get to contribute to the active shifting of perceptions toward the Queer community. I represent a community consisting of hundreds of millions of the most vibrant and eccentric people. 

We've gone from being a criminal class and classified as "mentally ill" – just for loving who we love – less than fifty years ago to voguing across mainstage and influencing the mainstream like none other. And the work has only just begun. Being normal is vastly overrated.
*DISCLAIMER: Vijay's views are his own and do not represent those of Playground Games, Xbox or Microsoft.
This profile was conducted by Alumni Engagement Officer, Nicole Brownfield. If you would like to get in touch with Vijay or engage him in your work, please contact Nicole at n.brownfield@qmul.ac.uk.
Topics